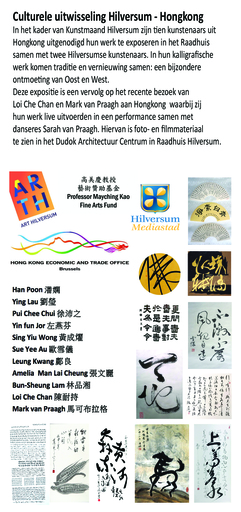 "Tradition and Innovation"
Cultural Exchange Hong Kong-Hilversum
At the Town Hall Hilversum
From 9 June to 1 July 2016
Address: Dudokpark 1, Hilversum
Opening: 9 June 2016, 16:00 by Deputy Mayor Wimar Jaeger, Alderman for Culture, Hilversum
Ten artists from Hong Kong: Sue Yee Au, Amelia Man Lai Cheung, Pui Chee Chui, Yin fun Jor ,Leung Kwang, Yuk Mei Kwok ,Bun-Sheung LAM, Ying Lau , Han Poon and Sing Yiu Wong
are invited to exhibit their work together with two Hilversum artists in the Town Hall Hilversum. They are all alumni's of the Fine Art Department of the Chinese University of Hong Kong (CUHK), all specialized in Chinese Calligraphy and Chinese painting.
This exhibition is a continuation of "Dancing Lines: An Encounter of East and West Calligraphy with Dance at CUHK" for the Dutch Days in Hong Kong 2016. The two Hilversum artists Mark van Praagh and Loi Che Chan exhibited then ( 16 April ) an installation of a 1000 meter Chinese Calligraphy with a roll of 101 Hidden Message, and an experimental performance with dancer Sarah van Praagh.
Some photos of the event in Hong Kong are displayed in the exhibition and a video can be seen in the Dudok Architecture Centre inside the Town Hall.
This project is organised by Art Hilversum, co-organised by Loi Che Chan and Mark van Praagh, sponsored by The Hong Kong Economic and Trade Office in Brussels, the Mayching Kao Fine Art Fund, and hosted by the City Council of Hilversum.